April 1, 2020
GIVE US THIS DAY OUR DAILY THREAD...
Time to Read: 3.5 seconds
From the lens of The Daily Thread
If I Ever Get Out of Here...
I got stuck in an elevator last night. There were three other people and a wiener dog. Stuck in an elevator with three strangers and a yappy dog. Definitely not where you want to be during a pandemic.

One guy had a stupid idea. He said we should all jump in the air and the elevator would open because it thought nobody was inside. We tried. Like I said. Stupid idea.

We were stuck for a while. My fellow riders starting pouring their hearts out. One said, "If we ever get out of here, I'm going to start speaking to my mama." The stupid idea guy realized he loved his girlfriend and wants to propose. I heard she said yes.

The last stranger said if we ever got out she was having her eyes lasered. A lifelong glasses wearer myself, I understand. I started to pour my heart out, but she rudely interrupted me wondering where her Tic-Tacs went.

Let's just say those people knew exactly what they wanted. I found myself wishing I were as lucky as them.

Ok fine that's a scene from You've Got Mail. What I want right now is to travel the world. But we can't. We're staying inside because of this pandemic. It's the right thing to do, but it's sad.

To curb my sadness, I created a video from archived footage. I want to tell you the story of my favorite spontaneous trips. It spans 3 years and 4 countries.

This week, start saying yes more. It's hard because we can't leave our homes. But the opportunity to kill the comfort zone still abounds. When we can leave, you'll be ready for the big stuff.
I'm ready for more spontaneous trips. Who's with me? Please enjoy some of my favorite memories.
Bourbon and Brew
Justin from California sent me a picture of his Oak and Eden yesterday. He confirmed its deliciousness. We're working together to get some here to North Carolina. What a guy.

Justin also let me know about his sick side hustle. I'm gonna get him on here to talk about it soon. He even said something about a discount code.

You can always reply to The Daily Thread emails. We're here to talk and we love interesting people like you. Let's chat.
It's Electric! Boogie, Woogie Woogie
Do you know the scene from Ratatouille when Remy combines cheese and a strawberry? He sees flashes and floating blobs while eating the cheese. He sees swirls and stars when eating the strawberry.

Then he eats them together. He sees brighter flashes, different stars and swirls, and beautiful music erupts. BANG! The crazy old lady flicks the light on and blows up her kitchen with a shotgun.

Porsches are cool. Teslas are arguable cooler. But a Tesla powered Porsche blows the doors off both.

Zelectric is the worldwide leader for classic German car electric conversions. I didn't even know that was a category. This 1968 Porsche sports a Tesla P85 powerplant.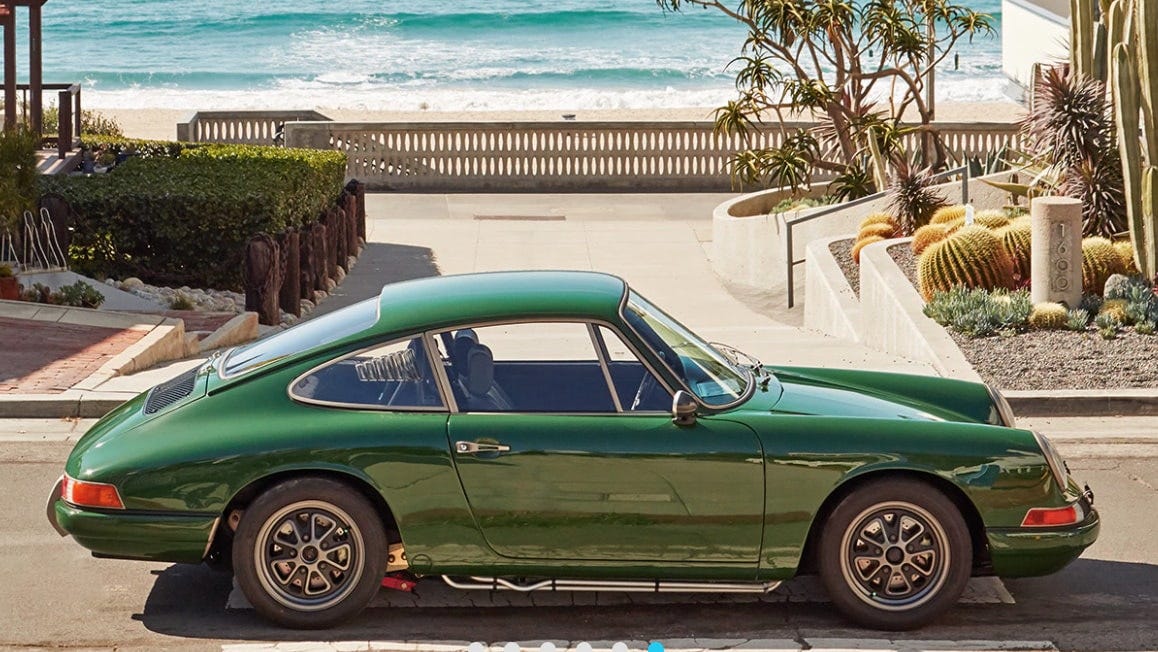 It is sexy. And it could very well be yours. It's part of a raffle to support STEAM educational field trips in LA. I hope you don't win though. I want it in my garage. And I don't even have a garage.

I bet I could build one with the $20,000 cash bonus.
This email is a safe place. There's no trickery. Ever. Not even on April Fools Day.

If someone ever pays The Daily Thread to put their content in our email, I'll make sure you see the word "SPONSORED".

If you don't see the word "SPONSORED", it's something we made for you to enjoy. Or it's something we saw and had to share with you.

We hope you enjoy this email every day. It exists to improve your life. If you don't enjoy it, reply and let us know why.

-- Ryan
Did a friend forward this to ya? JOIN OUR CREW