May 1, 2020
GIVE US THIS DAY OUR DAILY THREAD...
Time to Read: Two minutes, forty five seconds
The Most Classic Boot Ever
There are two types of people in this world: Those who believe boots don't belong in warm weather and fools.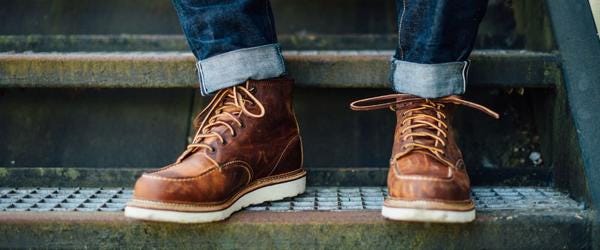 Red Wing Heritage is the top name in boots. Even amateurs know Red Wing. These mocs are their most iconic creation.

Pretty soon everyone's going to be wearing knockoff Yeezy's and tee shirts down to their knees. There's no better shoe for kicking that style to the curb than a Red Wing Moc.

Last #23 was created for sportsmen but adopted by farm and factory workers. It's still at home on the range, but it's just as good in the city. There's no better way to put a little elbow grease in your style.

I dare you to wear these out. They've got triple stitching, Goodyear welt, Traction Tred outsole, and of course full grain leather. Their durability is legendary.

And you're gonna love the cork midsole. It molds to your feet. So the more you wear these, the better they get. You ever had custom shoes? Me neither.

But I've had Red Wing boots. After a few months, that's pretty much the same thing.

I looked high and low but I couldn't find any juicy deals. Best I could get you was $10 off. Every dollar counts.