Another day, another edition out. I think I'm getting the hang of piloting this thing but keep the feedback coming. A weird technology theme revealed itself today. Enjoy!

- Kirsten
Surfing and Technology
Josh Kerr's (@josh_kerr84 on insta) 13 year old daughter, Sierra, is following in his footsteps but she has a secret weapon: a wave pool. Wave after perfect wave, fed into a computer and then pushed to the pool. Should be interesting to watch the next generation surfing (and doing every outdoor sport for that matter). Watch - 2 min
Camping and Technology
Hipcamp in Every State: For those not familiar with Hipcamp, they are a comprehensive resource for unique outdoor stays around the US. A glamping AirBnB comes to mind when I think of them but they are more than that. Check the best Hipcamp spots for off-grid chilling out, escaping the hordes, and finding adventure. Read - 16 min
Rad Gear: Fleece Technology
My husband can't say enough good things about his Billabong fleece. He treasures it and hates when it gets dirty and/or smells like campfire. It's fortified with DWR coating to keep you dry and heavy polar fleece to keep you warm. Imagine that, a fleece that's water repellent...boom, mind blown. Get
PS: That's a model, not my husband ;)
Outside News
Outdoor stuff worth sharing:

Fall Colors: If you enjoy the Fall season like we do, check out this Fall foliage. Read - 2 min

Gritty Heroine Novels: As reviewed by Outside, these recent releases feature stories of gritty heroines on wild adventures. I haven't read them yet but they are on my list. They sound bad-ass and I'm sure not just for women readers. Check the reviews. Read - 6 min

Battery Power: E-bikes are now a common part of our outdoor adventure ecosystem. When I talk about e-bikes, I mean pedal assist, which is referred to as Class 1 in this article. I'm thinking of investing in an e-bike next season. It would be fun to get to a far reaching adventure and have some wind left in your lungs to enjoy it. I think it's a good thing that the US National Park Service is spending some serious time on the issue because I don't think it's on Canada's radar yet. Read - 3 min

Close Encounters: Devils Tower National Monument was a popular place in September. Nearly 75,000 people visited the monument, a total that made this the busiest September in Devils Tower history. Maybe a record streaming month for Close Encounter Of The Third Kind also? Read - 1 min

Chin up rule: I didn't know this rule. Seems grounded in science. Read - 10 seconds
Live From The Wild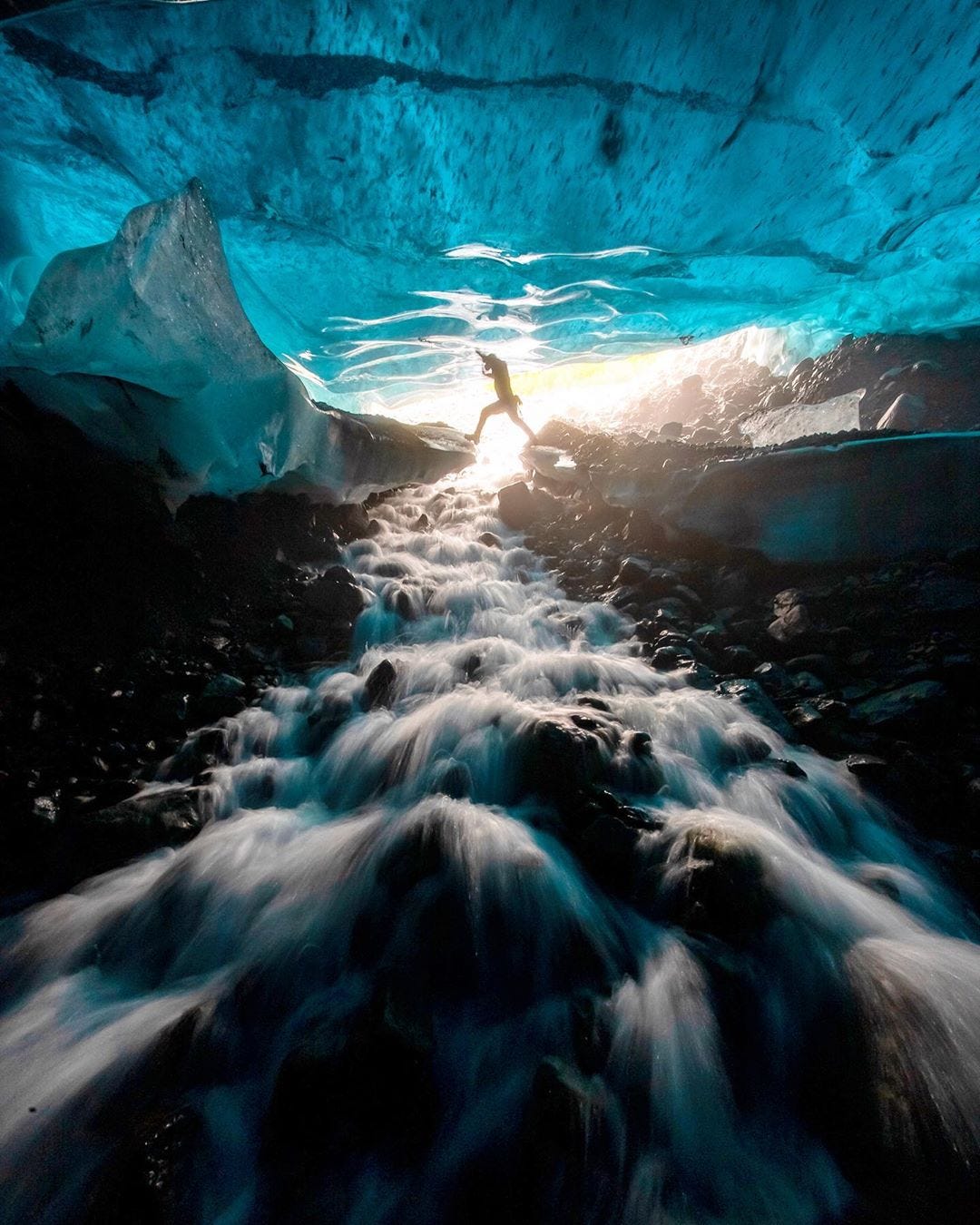 Scary Leap @Chrisburkard
Alaska
Reflections @kennybloomberg
Near Banff, Alberta, Canada
Share if you thought we did a good job today:
Forward to your friends and they can sign up to TDT here:
Send us some feedback here:
The Daily Thread is 100% funded by MTN LUV. We don't use affiliate links, advertising or ask for donations. MTN LUV is an outdoor product company without any products yet. Nothing sadder than a product company with no products…we may ask you to help us build them.