Apparently, it's Canadian Beer Day. I don't actually like beer, so you can drink mine - cheers! Does anyone know when Canadian Wine Day is?

- Kirsten

PS: If you want to start a conversation on any of the topics in the newsletter, we post each daily edition here, (newest at the top) and comments are open at the bottom of each post. See you there.
Must See Movie: Freak Stoke
This movie originally came across my feed via the Adventure Journal. Ok, ultimately it's an advertisement for the Specialized Stumpjumper EVO (my husband's first modern MTB, still hanging on our gear wall in the garage as a backup). AJ says it best: "There's a look the "old" rider gets in his eyes at the very end, the first time he's ridden in decades, that somehow perfectly captures the pure freaking stoke of riding, surfing, skiing, whatever it is, that burns in all of us". Watch - 6 min (this is a must watch if you like bikes or old freaky looking guys)
POV Kayaking
I'm more a flat-water kayaker, but I have been in the rapids before, so I can appreciate the skill necessary to manoeuvre properly. This is Dane Jackson, the dude that dropped down the 134ft Chilean Waterfall in May. In this more tame video, Dane is testing out the new Antix 2.0 and he seems to like it. "With the 2.0 it just seemed like there were 10x as many moves as there was before, all the way down to even the final rapid". Watch - 22 min
Toxicity In The Gear World
Picture credit to @kikamack. "If I want to make the outdoors a more inclusive space, it starts with unlearning the assumption that you have to have the best gear to be outside". How a small retailer Is combatting the industry's darker half. Read - 4 min
Rad Gear: The Technical T-shirt
The basis of everyone's outdoor wardrobe, female or male, is the t-shirt. I'm usually pushing Rad Gear that we personally use here at MTN LUV (and we do use t-shirts), but I thought this t-shirt evaluation was worth the addition. We're in the process of creating our first product at MTN LUV and it will be a technical t-shirt for trail sports. I would have added an eco-score category in the comparison, but that's just me. Read - 6 min
Outside News
Outdoor stuff worth sharing:

Onewheel: Man Rides Onewheel 4,700 km Across Canada for Charity. Onewheeler John Shrier just completed his journey from Montreal, Quebec, to Whistler, British Columbia — a 4,500-plus-km ride over 30 days. Check out the fundraising page.

Ramping Up: E-bikes are heavy and Yakima has the solution, rear rack with ramp. What a great idea! I could use this for my kid's mountain bikes - I have a hard time spending thousands of dollars on bikes they'll outgrow so they're cheaper aluminum and way heavier than ours. Read - 2 min

Long Drawn-Out Death Of Print Media: If you missed the article from Monday on the demise of several long standing outdoor magazines, we have pinned it to our site with some additional media coverage. Read - 2 min.

Lamb Chop: Judging from Instagram, your adventures in the outdoors quite often includes a dog companion, so I thought it fitting to include the winner of the world's cutest rescue dog contest, Lamb Chop. I think you'll agree she's pretty cute, and that has nothing to do with the fact that she looks just like our own rescue dog, Farley. Watch - 37 sec

Fakin' It: I didn't realize outdoor exploration history is so rife with deception. Read - 10 min

Lady Gaga: Not often do we get some celebrity outdoor news here at TDT. Apparently the 34 year old pop star is quite a climber and looks super fit. Read - 2 min

Not So Happy Days: Academy Award-winning director Ron Howard's The Perfect Storm: Rebuilding Paradise is a moving story of resilience in the face of tragedy, as a community ravaged by disaster comes together to recover what was lost. The documentary premieres commercial-free on November 8 but you can watch the trailer now... Watch - 80 sec
Live From The Wild
Defender (anyone know the year?) @54n.overlander
Denmark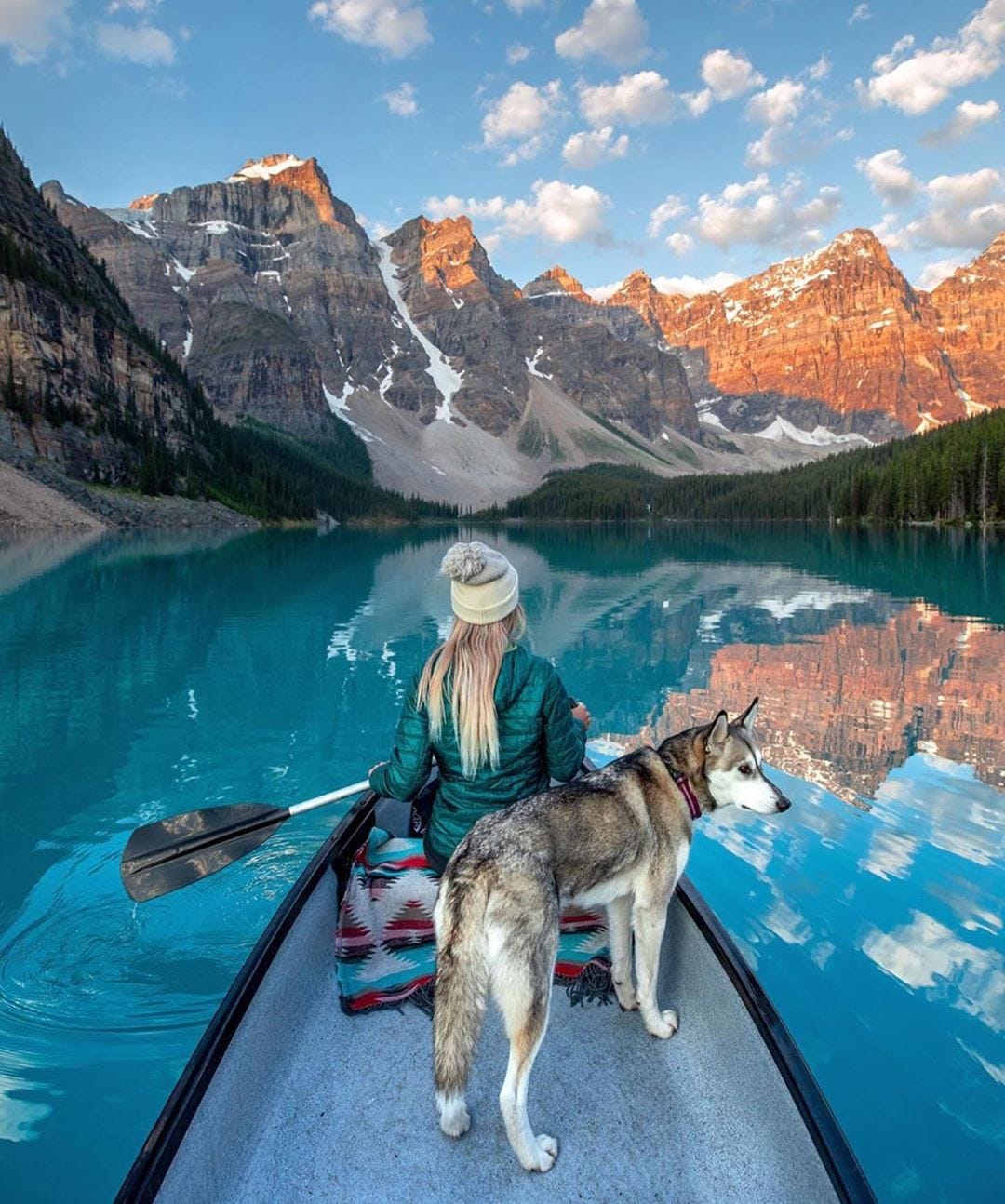 More Reflections @wilderness_culture
Alberta
Share if you thought we did a good job today:
Forward to your friends and they can sign up to TDT here:
Send us some feedback here:
The Daily Thread is 100% funded by MTN LUV. We don't use affiliate links, advertising or ask for donations. MTN LUV is an outdoor product company without any products yet. Nothing sadder than a product company with no products…we may ask you to help us build them.