Special Canadian Thanksgiving edition today. This is Greg, Kirsten's husband, stepping up to write today's edition. Kirsten is in a turkey coma.

- Greg

PS: We are always trying to get better. How likely are you to recommend us to a friend?
😁 or 😠
When is a Jeep not a Jeep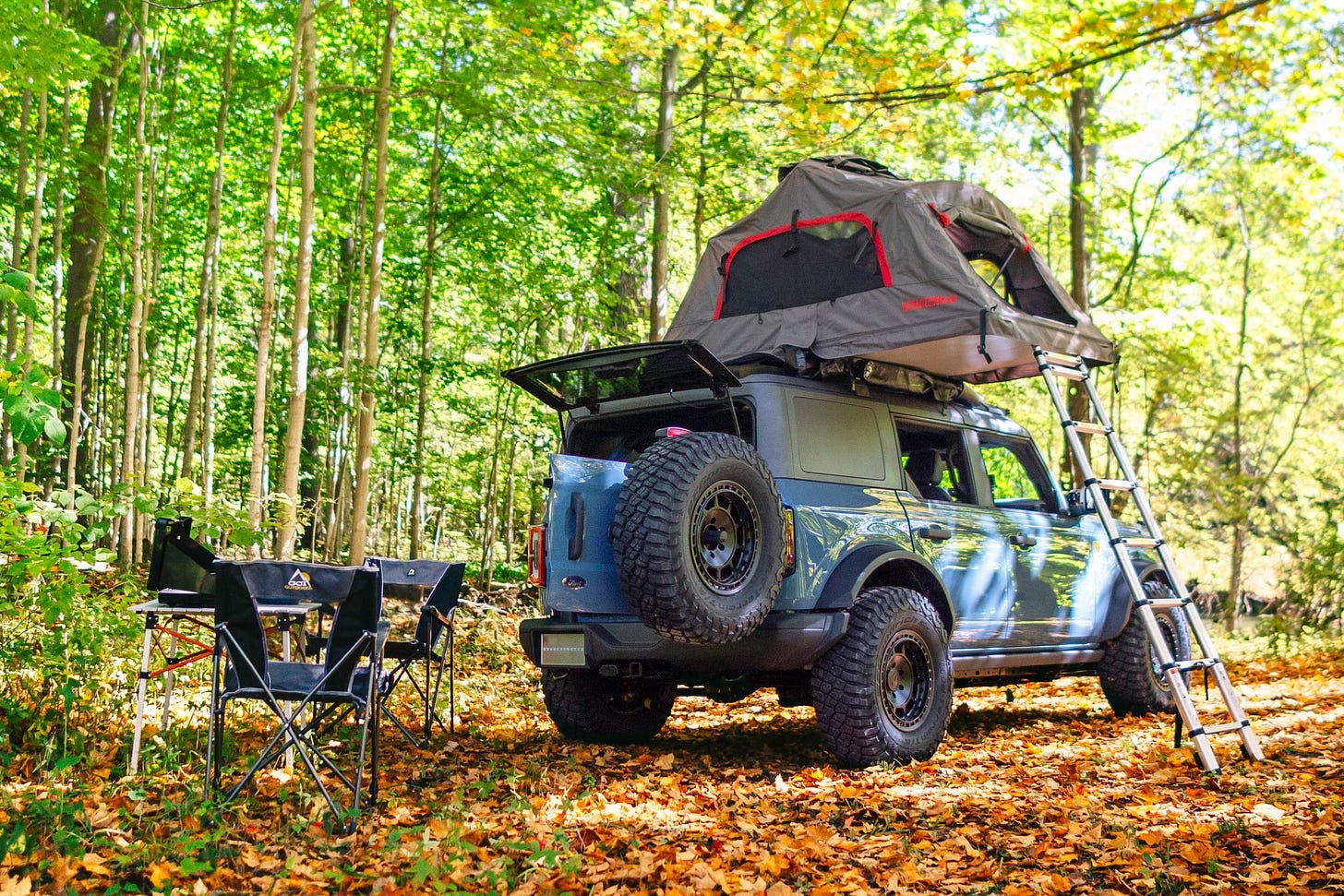 I have to confess that I am a Jeep guy, but I have been following the recent developments with this Ford Bronco. I love what they are doing with this new Bronco "Overland Concept for Off-Road Adventure". This special edition SUV builds off the four-door Bronco Badlands Series, Ford's answer to the Jeep Wrangler Rubicon. I'll stick with the Rubicon for now but it's nice to see some competition. It makes everyone better. Read - 2 min
Rad Gear: Halo Headband
I have a problem and I thought this would be a good place to come out of the closet with it. I am a head sweater. I produce an abnormal amount of sweat from my head, and when I say abnormal, I mean it comes by the bucket load and it can be embarrassing. Halo is my go to headgear to help save my dignity. I usually go through two of these neoprene "guttered" headbands during an extensive hike or MTB. They are Canadian made but they ship around the world. Get
Don't Wash Your Fleece
I thought I was doing Mother Nature a favour when I bought my fleece made of recycled water bottles. Cotopaxi told me that those water bottles would have ended up in the ocean and inside the belly of a whale. It turns out my fleece is slowly making its way out to sea anyway. Apparently. every time someone launders a fleece jacket or other piece of synthetic-fiber clothing, microscopic fibers of plastic wash into sewer systems, down rivers, and out to sea. Read - 2 min

PS: Check out Houdini Sportswear, they are addressing the fleece problem by considering their products' full life cycle.
PPS: The best title in the world is Adventure Scientist.
Outside News
Outdoor stuff worth sharing:

Park Alerts: Yellowstone National Park records busiest September in history Read - 1 min, and Rocky Mountain National Park in Colorado is ending its timed entry system for park visitors. Read - 1 min

More Media Moves: Pocket Outdoor Media, the so-called world's leading creator of active lifestyle content, today announced the acquisition of Big Stone Publishing, the longtime publisher of Rock & Ice, Trail Runner, and Gym Climber magazines and websites. Rock and Ice will merge with Climbing to form a single magazine under the latter's title. Read - 1 min

Hands-Free Adventures: Milo Action Communicator is a device that will allow you to hold a natural conversation with friends and family while on adventures without needing to shout or free a hand to push a button on a walkie talkie. Read - 3 min. Check out the Kickstarter. Kick

Close quarter hiking: I usually take my mask off while hiking as the trails up here in Canada haven't been nearly as busy as below the 49th parallel. If you are hiking with peeps outside your bubble you might need to refer to this listicle of the best face masks for hiking. Read - 2 min

Sorry, more snow stuff: If you are looking for your sliding fix for the day, this Powder article gives you every ski movie trailer of the season. Bookmark it because it's updated weekly...that is until Powder magazine disappears. Read and Watch
Live From The Wild
Mount Agung (active volcano) @jordhammond
Indonesia
Code Red swell at Teahupoo @surfandrepeat
Tahiti, French Polynesia
TDT Ambassador Program
Refer friends, win rewards:

Get a shout-out, editor status and MTN LUV swag when people sign up via your unique link (below).

It's easy, just copy and paste your unique link and share it in an email, on Twitter, or wherever you like. Thanks for spreading the word!

Your unique referral link: *|RH_REFLINK|*
The Daily Thread is 100% funded by MTN LUV. We don't use affiliate links, advertising or ask for donations. MTN LUV is the outdoor outfitter for the next generation of adventurers.