Finally, we have snow on the back deck...exactly two months until opening ski day!

- Kirsten

PS: We are always trying to get better. How likely are you to recommend us to a friend?
😁 or 😠
Hiking By Starlight
@zorakolarova
I've been fascinated recently with these sunrise summit pics on Instagram. I assume these people sleep at the trailhead and start their hike in the dark with headlamps and, hopefully, bear bells. The idea of night hiking because of congested trails seems logical, but I have a hard enough time staying on the trail during the day, so I think I'll pass. Read - 6 min
Shopping Yourself Green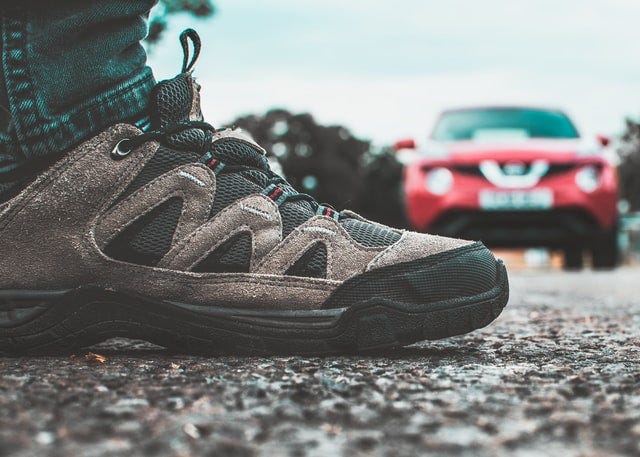 Photo by Vusal Ibadzade on Unsplash
The gist of this discussion is do we need more stuff? Don't be fooled into buying those hiking shoes made out of plastic bottles harvested from the great garbage patch because they are eco-friendly. The first consideration should be: Do I need a new pair of shoes? Remember, the most sustainable purchase you can make is one that you'll use forever, so durability is a thing and perhaps think about purchasing well made second-hand goods. Read - 4 min
Outside News
Outdoor stuff worth sharing:

MTB Finals: Who won what at last week's Mountain Bike World Championship in Leogang, Austria. Read and Watch

Reality MTB TV: If you like watching drama, tears and manipulation with a little downhill mountain bike action thrown in, don't miss Pinkbike Academy starting this week on YouTube. Ten MTB riders will be pitted against each other with a pro contract on the line. Read and watch the trailer - 1 min

Gaming: It's not often we post about Apps in the outdoor news, but if you're chilling at home after an outdoor adventure, maybe download Crux, a climbing puzzle game of sorts, where you must swipe the screen to move your hands and feet to the next holds. Read Review and Download - 2 min

Guiding Light: After a summer full of adventures, I'm interested in trying out some backcountry skiing and hiking this winter, which is something I've never done before. However, I have a healthy fear of avalanches, so I like the idea of going with a guide, at least for the first few times. Guides are paying attention to what's happening in the mountains all season long, as an individual and an operation. Read - 7 min

Cool Hiking: If you can't afford to hire a guide for the backcountry, as discussed above, at minimum refer to these pro tips on winter hiking. Read - 5 min

Whale of a Tale: Age-old story, the man drops the phone in the aquarium, the albino whale... well, I don't want to give away the ending. Watch - 1 min
Live From The Wild
Fly Fishing @maedbhryanphotography
Great Smoky Mountains National Park
First Snow @beavercreek
Beaver Creek Mountain, CO
TDT Ambassador Program
Refer friends, win rewards:

Get a shout-out, editor status and MTN LUV swag when people sign up via your unique link (below).

It's easy, just copy and paste your unique link and share it in an email, on Twitter, or wherever you like. Thanks for spreading the word!

Your unique referral link: *|RH_REFLINK|*
The Daily Thread is 100% funded by MTN LUV. We don't use affiliate links, advertising or ask for donations. MTN LUV is the outdoor outfitter for the next generation of adventurers.