Welcome to all of our new subscribers, I hope you enjoy our content! You can always reply to this email to send me direct feedback or click on one of the good/bad icons at the bottom.

- Kirsten

PS: Less than one week left in the monthly referral contest. With just one referral you would have about a 10% chance of winning the $30 Patagonia gift card. Details at the bottom of the newsletter.
You Burn More Calories with Trekking Poles
I generally use one pole and from what I can infer, that's probably the worst thing to do. I'll skip to the end to break the suspense: Trekking poles decrease lower extremity loading and forces but increase cardiovascular demand. When carrying a large external load, trekking poles may offer benefits by decreasing lower extremity muscle activity and increasing balance and stability. If you are super detailed like me, you can read the scientific paper here, otherwise, get a decent summary and commentary here: Read - 4 min
Vintage Gear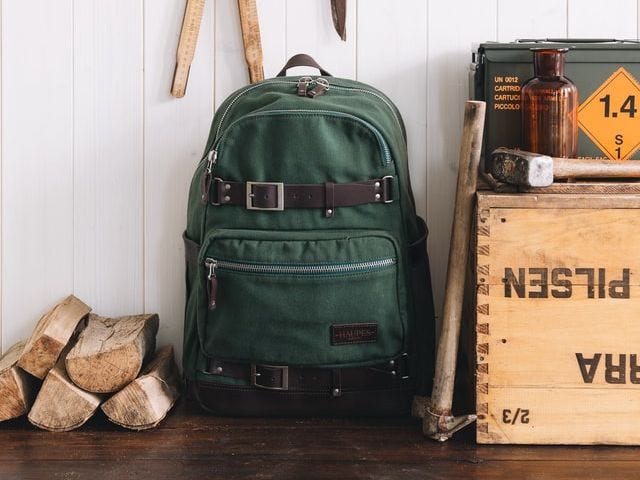 Photo by Haupes Co. on Unsplash
This Brooklyn couple is running a retro gear shop out of their basement. Over the past decade, they've periodically RV'ed around the country, visiting national parks and scouring flea markets and vintage shops — plus online vendors — to gather a one-of-a-kind horde of outerwear. Read - 2 min
I generally have a more modern taste but I know vintage is very trendy, which could be a good thing. This post is less about the cool vintage shop and more about the sustainability angle. My opinion is that buying new gear—even if that new product appears to be made sustainably—has the biggest impact on the environment, compared to prolonging the life of what you already own or buying some vintage gear. Direct parallels to the fashion industry.
Rad Gear: Solar Coffee
Photo by xandro Vandewalle on Unsplash
Close your eyes and think about waking up in the backcountry. It's a little chilly, so you pull on your fleece pants. Do you smell the pine and the smoke from the morning campfire? Are you now craving that morning cup of coffee? Dreaming of wrapping your chilly hands around that tiny collapsible mug you carry in your ultralight kit? Well then, this solution probably isn't ready to replace your current backcountry coffee solution, since the carry case seems quite large, but it might be good for car camping. Check out GoSun's latest Kickstarter campaign for a solar off-grid coffee maker. We are big coffee lovers here at GoSun. Before this invention, brewing that precious cup of morning coffee was impossible without gas or fire. Interesting press release here:Read - 3 min
Outdoor News and Info:
Missing Mom Part 3 - As I said last week, I knew there was something fishy about the 2-week wilderness survival story. Local Sheriff now questions account of how missing hiker survived for two weeks with no water. Read - 2 min

Prepping The Mountain: We are watching with bated breath as the crews here at Panorama prepare for the upcoming season. This story, courtesy of the Lake Louise team, is a re-post from last year but it is a great behind-the-scenes look at what it takes to keep a mountain running all year round. Read - 4 min. Also, first ski resort in the United States opens for the ski season here.

Plastic Clothing: Big high-five for buying that fleece made from reclaimed water bottles. On the surface, this seems like a perfect solution — removing plastic that is currently polluting the earth, and transform it into something useful. However, it turns out it's a bit more complicated than that. Read - 5 min

Hiking Trailer?: I don't think this one is for me, but apparently using a Hiking Trailer can prevent hiking injuries like back pain, knee injuries and shoulder fatigue. Wouldn't you be limited in the terrain? Watch and find out. Watch - 1 min

Outdoor Tech: Innovative apps and devices are empowering people to get active during the pandemic. Read - 4 min

My Quick Takes:
Yakima 'EXO System' turns your car into a truck. Read - 4 min
Friday marked 9- year old Carter Doorley's 150 days in a row surfing. Read - 2 min
Unexpected Avalanche. Watch - 30 secs
Climbers Speaking Up About Eating Disorders. Listen - 24 min

Lunch Break Videos:
TRAILER: Absinthe Films' 2020 Snowboard Film "Channel ZeRO" Watch - 2 min
Kids, sleds and avalanches do not go together. Watch - 1 min
Another "drone spots shark over a boater" video. Watch - 1 min
Vertical Ice: The Spirit of Guy Lacelle (Ice Climbing Documentary) Watch - 17 min
Live From The Wild
Leprechaun Island @landscapesnature2020
Norway
How Did We Do Today?
Pot Of Gold
👊
Pot Of 5-Day Old Stew
🤕
Referrals
Starting on the first day of each month a fresh referral giveaway will start. On the last day of the month, we will announce the winner of that month's giveaway. You just need 1 referral to be entered. Giveaway winners are selected at random. However, to make things more interesting, the giveaways are weighted: participants get one ticket for every person they refer. Our Sparkloop app's algorithm does all the heavy lifting and picks the winner.

October's giveaway is a $30 USD gift e-card from Patagonia.

Just copy and paste the following into an email and send to your friends and family:

Hey, I highly recommend giving The Daily Thread newsletter a read. (the author Kirsten, is totally cool <- optional) It's an awesome weekday email that delivers the top outdoor adventure and lifestyle news in a way that's informative and entertaining. Best of all, it's free and only takes 5 minutes to read each morning. Give it a try and subscribe using my personal invite link below: << Test RH_REFLINK >>
Copyright © 2020 The Daily Thread, All rights reserved.
You are receiving this email because you opted in via our website.

Our mailing address is:
The Daily ThreadPO Box 84
Panorama, British Columbia
V0A1T0Canada
Add us to your address book

Want to change how you receive these emails?
You can update your preferences or unsubscribe from this list.