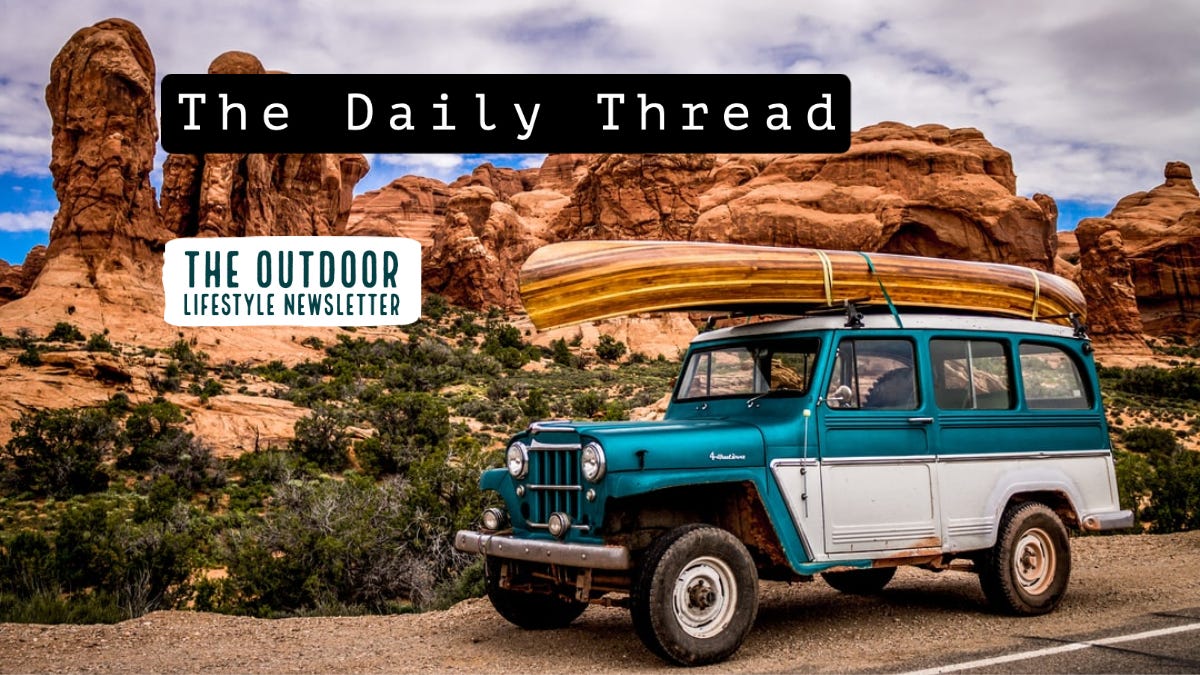 Issue 181 is so funny. Keep reading and you will see.

- Kirsten

PS: I know who you secret Tik Tokers are now... let's be friends. Keep it quiet tho. ;)
Sea Turtle Protector
Check out this series of articles on unique outdoor coastal jobs. The idea of working outdoors instead of in an office sounds very appealing to me, but I'm not sure that Whale Snot Collector would make the list. I mean, do whales even have noses?? I could definitely see myself applying for Sea Turtle Protector though, so cute! If you prefer dogs instead, maybe you'd like to apply to be a Whale Dog? Er, I mean I assume you'd be the watcher of the specially trained whale dog, not the actual dog, but maybe you have a special talent for smelling whale poop in the ocean too? 😂 Anyway, some very interesting jobs to check out... Go
No More Winter Tips...I can't take it...
Photo by Casey Horner on Unsplash
Hopefully, I'm not boring you with all this winter prep stuff...I'm just trying to keep my TDT community warm and safe this winter. For those that don't know the exact lingo, thru-hiking, or through-hiking, is to hike an established end-to-end hiking trail or long-distance trail with continuous footsteps in one direction. Legendary thru-hikes are the Appalachian Trail, and the Pacific Crest Trail and can take months to complete. Whether you are thru-hiking, day hiking or out for a walk in the snow, Eloise Robbins, has some great winter tips in this article including: (1) Learn how to keep your water from freezing (this happened to me last weekend while hiking - don't use a bladder or the tube will freeze), and (2) figure out what foods are inedible if they're frozen (<--please not chocolate chip cookies :)). Read - 3 min
Outdoor News and Info:
Missing Mom Part 4: If you've been following this story, then you know there was some debate about whether Holly Courtier (a.k.a Zion Missing Mom) could have survived if she was drinking the toxic algal bloom infested river water or, if not, for 2 weeks without water. Well, it gets fishier. According to her sister, she not only planned to go into the park alone with no food (and without telling her family) but even started fasting a few days before as part of some shamanistic journey. Read - 4 min and Watch - 2 min

Here Comes The Judge: Amy Coney Barrett's confirmation could be bad for the outdoors, but I think it's a bit early to be sounding the alarms. Barrett: I have read things about climate change. I would not say I have firm views on it. Read - 3 min

Outdoor Fans: Whether it's hiking or camping, this poll shows that the majority of Americans consider themselves outdoors fans...how do we get them all subscribing to TDT? Read - 1 min

Old School Skiing: If you're ever in Littleton, New Hampshire, make sure you visit the oldest ski shop in North America or buy something online to make sure they stay open for another 100 years. Watch - 20 min

Best Boots: Backpaper.com's Best Boots article compliments all of our winter prep talk. My husband wears the Oboz Sawtooths and says they are super warm and grippy. Read - 1 min

My Quick Takes:
Yet Another Hurricane Has Parks Closing Read - 1 min
Once Upon A Time In Yellowstone, There Was A Swimming Pool (and a "bear-feeding platform"?!?!) Read - 2 min
Hikers Rescue Dehydrated Abandoned Dog in Joshua Tree National Park Read - 1 min or Watch - 2 min

Lunch Break Videos:
Scary: TikToK: POV ski Watch - 10 sec
Sad: 4 years of climate change in 8 mins (be warned, a bit left-leaning) Watch - 8 min
Scary: Sliding Off A Hot Air Balloon Is Only Cool If You're Wearing A Parachute Watch - 37
Funny: Taddy Skates 2020 - Best Cat Snowskate Video Ever! Watch - 30 sec
Live From The Wild
Up versus Down @uptheberm
Squamish, BC
How Did We Do Today?
I laughed
👊
I groaned
🤕
Referrals - Only a few days left
Starting on the first day of each month a fresh referral giveaway will start. On the last day of the month, we will announce the winner of that month's giveaway. You just need 1 referral to be entered. Giveaway winners are selected at random. However, to make things more interesting, the giveaways are weighted: participants get one ticket for every person they refer. Our Sparkloop app's algorithm does all the heavy lifting and picks the winner.

October's giveaway is a $30 USD gift e-card from Patagonia.

Just copy and paste the following into an email and send to your friends and family:

Hey, I highly recommend giving The Daily Thread newsletter a read. (the author Kirsten, is totally cool <- optional) It's an awesome weekday email that delivers the top outdoor adventure and lifestyle news in a way that's informative and entertaining. Best of all, it's free and only takes 5 minutes to read each morning. Give it a try and subscribe using my personal invite link below: << Test RH_REFLINK >>