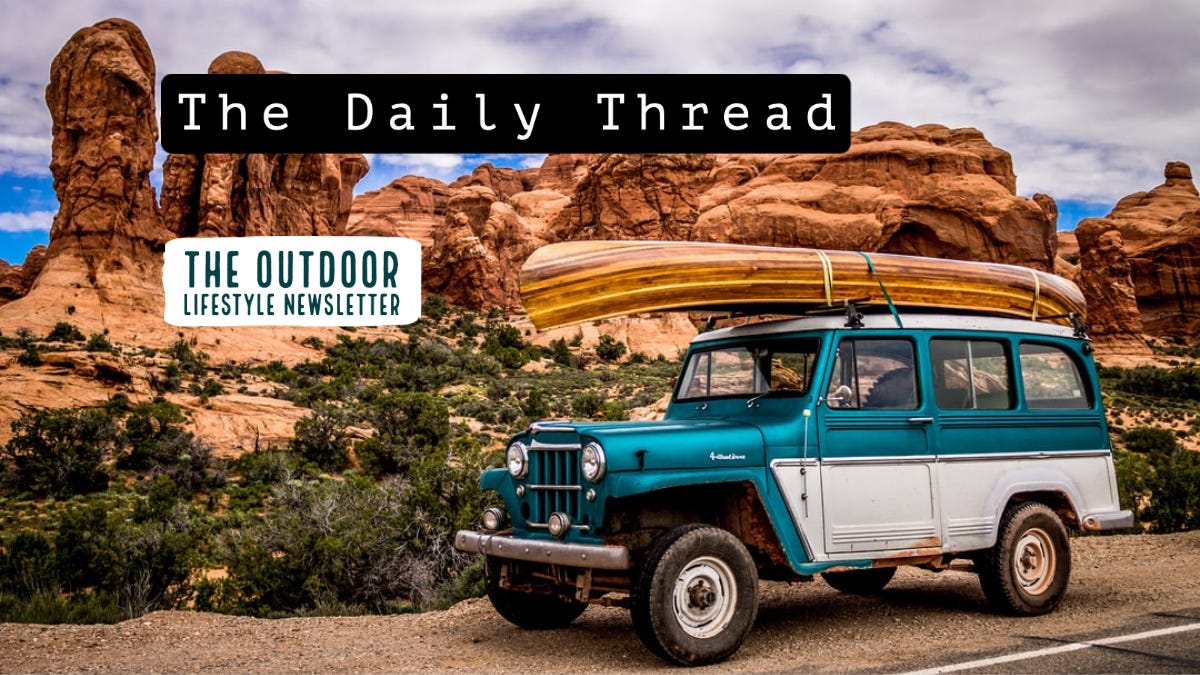 We are now on the World Wide Web... have you heard of it? It's pretty neat... to see all of our previous issues just go to www.thedailythread.co. The best part is that you can search issues by word. For example, say you've decided to take up snowshoeing and you want to find all the issues where we talked about it so you can read all the tips and tricks before you head out. Or maybe you just want to find the article on the outdoor coastal jobs because you want to share it with a friend who would love to be a whale snot collector. Great, right?! You can also hit the ♥️ button if you like an issue or leave a super awesome comment... I love feedback! The daily issue is usually up on the site before 9 a.m. Mountain Time.

- Kirsten

PS: Just a couple of days left in the October referral giveaway contest...see below for the deets.
Holiday Gift Guide
Have you started thinking about what you're getting the outdoor adventurers on your list this holiday season? For our American TDT community members, REI has launched its annual holiday gift guide and for the Canadian contingent, see the MEC's version here. For our international TDT members in Europe, Asia and Australia (the TDT community is represented in 12 countries!), I have no idea where you shop...please reply to this email (or at thedailythread.co) and let me know. My gift picks for the season are coming up in the next couple of weeks, so stay tuned!

Also, REI predicts that customer shopping habits this holiday season may be different. Read - 4 min

Two other gift guides: For the climbers and the backpackers on your holiday buying list.
More Coffee Tales
Photo by Mitul Gajera on Unsplash
Hey team, I know we recently discussed coffee in Issue 179 and it didn't go over too well. What did you not like? The solar tech? Or is the TDT community anti-coffee? Anyway, let's try this again, coffee is one of the most important ingredients of a successful camping trip. I should know, I forgot the coffee on a camping trip this past summer and Greg lost his sh*t. By losing his sh*t, I mean he shrugged his shoulders and said, "oh well" (he's a pretty chill guy), but I went into caffeine withdrawal for the day and was super grumpy. If you're in charge of the coffee management for your outdoor adventures, peruse this AJ article and pay special attention to the 5 tips at the end. Read - 3 min
Outdoor News and Info:
Missing Mom Part 5: If you've been following this story, then you know there were some discrepancies in Holly Courtier's story. Well, now it's turned into a "he said, she said" game. I must have missed the part when they reported that the family raised $17,000 on a Kickstarter campaign. Today's quote: Sgt Cashin also questioned the location of where the woman was found – about 800 metres (0.5 miles) from the Grotto parking area. Hmmm...like I keep saying, fishy. Read - 4 min

Confusing Carbon Offsets: Carbon offsets are more than just a calculator and payment on a website. Head to the ranchlands of Montana to see what an offset looks like on the ground...using cows. This one is a long read, you have to be committed to this one; maybe at lunch. Read - 20 min

Wave Goodbye: Yesterday saw surfers tackle some of the biggest waves humans have ever ridden. Read - 1 min and Watch 30 sec

Grave Consequences: A man caught digging in the historic Fort Yellowstone Cemetery faces up to 12 years in prison. Read - 1 min

Just Good Pics: I know how much the TDT community loves some good eye candy. I present to you 10 of the Best Mountain Views in Canada. View

My Quick Takes:
My Retired Forest Service Mule Went Viral: Here's Her Story Read - 4 min
Please @leavenotrace so you don't have to experience this the next time you're out on an adventure! See Tweet
Family pushes to continue the search for professor two weeks after disappearance at Mount Rainier National Park Read - 2 min
Electrolit donates nearly one million dollars in hydration beverages to support COVID-19 frontlines Read - 2 min

Lunch Break Videos:
The WURL: 4 days, 3 nights, 58 km of Ski Touring in the Wasatch Watch - 14 min
Dirt Skiing...is this a thing? Watch - 1 min
Greenpeace UK: There's a Monster in My Kitchen Watch - 2 min

Deals On Gear (not TDT tested, just good deals):
Peak Performance: Women's Rory Jacket - 60% off (final sale)
Marmot: Men's Plyes Peak Hoody - 60% off
Saxx: Men's Underwear - 2 pack - $10 off
Live From The Wild
Sunset with your best friend @sakercanine
At The Beach
How Did We Do Today?
Super Wide Awake
😃
A Real Sleeper
😴
Referrals - Only a few days left
Starting on the first day of each month a fresh referral giveaway will start. On the last day of the month, we will announce the winner of that month's giveaway. You just need 1 referral to be entered. Giveaway winners are selected at random. However, to make things more interesting, the giveaways are weighted: participants get one ticket for every person they refer. Our Sparkloop app's algorithm does all the heavy lifting and picks the winner.

October's giveaway is a $30 USD gift e-card from Patagonia.

Just copy and paste the following into an email and send to your friends and family:

Hey, I highly recommend giving The Daily Thread newsletter a read. (the author Kirsten, is totally cool <- optional) It's an awesome weekday email that delivers the top outdoor adventure and lifestyle news in a way that's informative and entertaining. Best of all, it's free and only takes 5 minutes to read each morning. Give it a try and subscribe using my personal invite link below: << Test RH_REFLINK >>