Halloween edition, very spooky. We're going to play a game in the comments at thedailythread.co today. I will write the first line of a spooky story and you guys can continue the story, line by line...I am excited!

- Kirsten

PS: Only two days left to "refer a friend". We only have 8 referrals this month (I am so sad 😢, we need that to be 80), so you have a great chance at winning the prize with just 1 referral. See the details below.

PPS: Watch the cactus video 😜
Spooky Outdoor Stories
I'm always spooked when I'm camping, but especially in the ground tent when we're backpacking (not so much in the rooftop tent). As we discussed already in Issue 172, the 1/32 inch nylon tent is the armor keeping the bad things out... I'm thinking about bears, which are really more scary than spooky. The spookiness happens when you have to pee in the middle of the night and there is no moon, just you and your headlamp... kinda like that low budget scary movie in the woods, with lots of jerky camera work...low budget? Anyone? [It came to me as I was editing the piece below - The Blair Witch Project] Anyway, check out these short spooky outdoor tales collected by Outdoor Bound on Instagram. Read - 3 min
More Spooky Things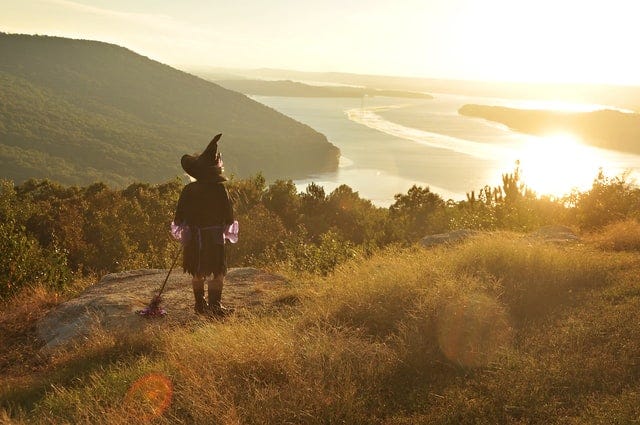 Photo by Amie Martin on Unsplash
I know, I know, we're all bummed about this pandemic ruining our Halloween, but you can still find some treats this year - you may just have to dig a little deeper into your outdoor bag of tricks. So in honor of this special pandemic Halloween, the Dyrt has put together a listicle... and I know you love the listicles... explore 10 haunted wonders that have camping nearby. Seems like a bit of a stretch, but let's go with it. Go get spooked up, then camp and stay up all night worrying about spooky Halloween things in the woods... like raccoons - you know, because of the mask ;). Read - 8 min
Outdoor News and Info:
Target Practice: We were hiking about a month ago and the whole time we were hearing gunshots. I think it was target practice rather than hunting season, but I was a little worried because we weren't wearing bright orange reflective gear. Stay safe out there with these 5 safety tips for hiking during hunting season. Read - 3min

Harley A Surprise: My husband can finally get that Harley-Davidson that I "strongly recommended" he not get. Serial 1 Cycling Company is the new Harley-Davidson subsidiary developed specifically for the e-bike market. Read - 1 min and Watch - 30 sec

Emergency Kit: We drive some emergency-kit-worthy roads on a regular basis and I have to admit that I sometimes forget to bring our emergency kit. It's really easy to miss (<--sarcasm) as it's the large yellow bag in the garage. This article is the best I've seen on creating a good kit. Read - 7 min (PS: lots of good photos... I call it "organization porn")

Duck Surfing: In Issue - 181 I introduced you to the snow skating cat. Today, we will enjoy the surfing ducks. Watch - 40 sec

A Diversity Tale: "Outdoor industry folks: wake up! Reflecting on this topic has me thinking of a few recent examples of instances that made me realize we're not where we should be as an industry." Read - 5 min

A Covid tale: Why we need access to the outdoors more than ever, as fifty-three percent of adults report that pervasive concerns about the virus have negatively impacted their mental health. Read - 9 min

Supermoms:Follow professional skiers and mothers Tessa Treadway and Izzy Lynch as they carry the load of loss, life changing events, and the love of their children into the mountains where they find the moments of peace, growth and healing that help them carry on. 'Motherload' film trailerWatch - 1 min

My Quick Takes:
Stolen Shoes, No Sleep: Mike McKnight's Crazy Colorado Trail FKT ("fastest know time" for any noobs) Read - 4 min
Yellowstone's Roads Closing To Public In Preparation For Winter Read - 1 min
12-Year-Old swims from St. Lucia to Martinique Read - 1 min

Lunch Break Videos:
Hey, Cactus Buddy, It's Okay to Let Your Guard Down a Little Bit (funny cactus tale) Watch - 76 sec
Left Right Left ft Rob Heule (skiing and surfing, yup surfing, in Alberta, Canada) Watch - 14 min
Bikepacking for Conservation Watch - 34 min

GearTrade Deals (the most sustainable gear purchase option is used):
Patagonia: Women's Nano Puffy Hoody (S) - $100 (60% off)
Danner: Women's Mountain 600 Hiking Boot (8) - $103.07 (43% off)
Salomon: Men's QST Skis 106mm waist, 174 cm length, with bindings - $562.50 ($62% off) <-- Greg says this is a great deal on a great west coast ski

Live From The Wild
Psychopomp @fitmaine
Crossing The River Styx, The Underworld
How Did We Do Today?
Treat
🍭
Trick
😱
Referrals - Only a few days left
Starting on the first day of each month a fresh referral giveaway will start. On the last day of the month, we will announce the winner of that month's giveaway. You just need 1 referral to be entered. Giveaway winners are selected at random. However, to make things more interesting, the giveaways are weighted: participants get one ticket for every person they refer. Our Sparkloop app's algorithm does all the heavy lifting and picks the winner.

October's giveaway is a $30 USD gift e-card from Patagonia.

Just copy and paste the following into an email and send to your friends and family:

Hey, I highly recommend giving The Daily Thread newsletter a read. (the author Kirsten, is totally cool <- optional) It's an awesome weekday email that delivers the top outdoor adventure and lifestyle news in a way that's informative and entertaining. Best of all, it's free and only takes 5 minutes to read each morning. Give it a try and subscribe using my personal invite link below: << Test RH_REFLINK >>